You might be surprised to discover how many accessories are made specifically for Jon Boats.
Some accessories are functional like the addition of a motor, and some like improved seats will vastly improve comfort.
And then there's everything in between like covers, carts, paint, flooring and a plethora of modifications to get your Jon Boat just how you'd like it.
You'll find it all on this website!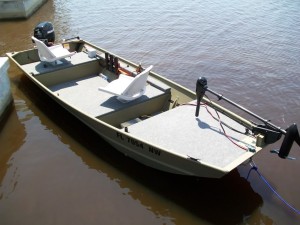 Jon Boat Seats
Many standard Jon Boats do not come with padded seats.  They can be rather uncomfortable when sitting in them for hours at a time when duck hunting or fishing.
You can check out our page on "Jon Boat Seats" for some great options.
In order to make your boat more comfortable, you will also need some type of pedestal or seat mounts.
There are quite a few pedestals and seat mounts to choose from and one that is highly recommended is the "Lowe Seat Mount."
The Lowe Seat Mount is available in five different sizes to accommodate any standard Jon Boat seat.  The mount simply slides down over the bench seat and is screwed into both sides securing it in place.
This mount is 3 inches higher than the standard bench seat and when mounted properly will not pull out.  One thing to note; your swivel seat must be affixed before the mount is attached.
You can find the Lowe Seat Mount and a number of Jon Boat Accessories on the A.K Maccallum Website.
Oars & Motor
Unless you plan on motorizing your craft, oars are a necessity.  One thing about Jon Boats is that they are very light and easy to push with an appropriate motor.
The standard Jon Boat only needs about 45 to 55 lbs of thrust.  However, when you are calculating the necessary thrust, you need to take into account the weight of passengers.  Generally, a 1000 lb boat which includes 4 passengers, can be powered with 50 lbs of thrust delivered by a 12-volt electric motor.
Minn Kota makes an excellent line of electric motors that can easily power any Jon Boat.  A good electric motors can generally cost anywhere from $300 to $600 depending on thrust and features.
Outboard motors can be much more expensive, but if you're fishing bigger lakes and flooded rivers you'll certainly need the extra power they bring.
Boat Covers
If you motorize your craft, it is a good idea to buy a cover for your motor to prevent it from being damaged when transporting.
You can buy a padded cover for around $50 to $75 dollars.  You can also buy a cover to encapsulate your whole boat and engine.
These covers are generally made of polyester and have straps for easy tie-down.  And, when you take the cover off you can pack it in its storage bag which usually accompanies a Jon Boat cover.
Cooler / Livewell
Many people like to have a livewell or cooler in their Jon Boat.  In order to save space for tackle boxes or gear, oftentimes, the choice is made to accessorize the boat with a combination seat and cooler.
Moeller makes a nice flip flop seat that can be flipped up quickly to serve as a cooler.
If you have ample space in your Jon Boat, a Yeti cooler is a great addition, as they are made tough to endure the elements found in the outdoors.
Paint & Primer
Today, if you prefer to have a camouflaged Jon Boat, you can purchase one that is already painted to your liking, or you can buy a standard Jon Boat and then paint it yourself.
In order to paint an aluminum boat, you need to primer it first and then apply the colors.
Parker Coatings sells an excellent primer called "Duck Boat Primer" that is available at outdoor stores.  Hunter's Specialties sells different color camo paint so that you can paint your boat for any outdoor situation.  Many duck hunters choose their "Marsh Grass" color paint.
You can find more tips and suggestions for paint here.
Boat Trailer
If you do not want to haul your boat in the bed of your truck or on your roof; there are numerous trailer brands for Jon Boats with a wide range in price.
Aluminum and galvanized aluminum trailers are more expensive than steel. HaulMaster makes a lightweight steel trailer for 12 or 14-foot boats for approximately $400. You can expect to pay more for an aluminum trailer.
McClain makes an aluminum trailer that retails for around $500. The difference in price may well be worth it because the steel trailer over time will corrode while the aluminum one will not.
Lights
If you are a night fisherman or hunt alligators at night, boat lights are highly recommended and in many places are a requirement. It is very important that other watercraft can visibly see you at night to avoid accidents.
Fortunately, there are plenty of lights to choose from so that your Jon Boat will be visible during dark hours.
A good choice is the "Deluxe Jon Boat Running Light Kit" sold by A.K. McCallum in North Carolina USA. A deluxe running light kit consists of two 360 degree lights which are placed at the bow and stern of the Jon Boat, 25 feet of wire so that the lights can be wired together, and a three-way switch to operate the lights.
What makes these lights so nice is that when you want to store them during the day, they can be taken down while the mounted plugs remain for easy assembly again before dark.
Anchor
Every Jon Boat should also have a good anchor.  Jon Boats are light and usually do not re
quire a heavy anchor.  There are the few times though when they're indispensable.
A good choice is a coated mushroom anchor   Depending on how windy or wavy your outdoor conditions are; you can purchase mushroom anchors from 8 lbs all the way up to 20 lbs.  And, because these anchors are coated they don't corrode and they last a long time.
Bilge Pump
Many years ago, people in Jon Boats would scoop water in the boat with an old coffee can.  Today, you can purchase high-quality bilge pumps to do the job for you.
In wavy conditions or sometimes when you tip the boat a little, water will get inside.  The right bilge pump can quickly pump the water out for you.
Other Jon Boat Accessories
There are many accessories that you can add to make your boating experience better in a wide range of weather conditions.
Rod holders, aerators for the livewell, carpet for the floor, repair kits, and cleats to hold the anchor or for docking purposes are all great accessories to add to any boat.